DRESSING UP FOR CHURCH
DRESSING UP FOR CHURCH
(Sunday, September 10)
"…Then he (the king) said to his servants, 'The wedding is ready, but those invited were not worthy. Go therefore to the thoroughfares, and invite to the marriage feast as many as you find.' And those servants went out into the streets and gathered all whom they found, both bad and good; so the wedding hall was filled with guests. But when the king came in to look at the guests, he saw there a man who had no wedding garment; and ...he said to him, 'Friend, how did you get in here without a wedding garment?' And he was speechless. Then the king said to the attendants, 'Bind him hand and foot, and cast him into the outer darkness; there men will weep and gnash their teeth.' For many are called, but few are chosen." (Mt 22: 8-14)
Christ invites all of us, "both bad and good," to His "wedding feast." What is that? It's the "feast" or celebration of His new-found union with all of humanity, all of us, as a consequence of His Incarnation, or His stepping into our shoes. In His becoming Man, and taking on our flesh and blood, He offers us a more perfect, more intimate, communion with Him. In fact He invites us to partake of His flesh and blood, not only spiritually, but also physically, in Holy Communion. But for this, we must at least be dressed appropriately, in a "wedding garment." Also physically.
Now I know that we, traditionally, tend to "spiritualize" this image. We say that it means being ready for Holy Communion "spiritually," having said all our prayers and so on. But I'd like to note the more literal meaning of this passage. And that is, that we should "dress up" for church, for the celebration of Divine Liturgy. Because "dressing up," literally, – and I mean, our fashion-choices on a Sunday-morning, before we go to church, – are not an unimportant expression of our attitude toward the "feast" or celebration at hand. We can, and should, "dress up" for church. For some of us, in fact, who do not have the time to read all the prayers required for preparation for Holy Communion, it may be the only thing we can do. But it is no unimportant thing. It is a small effort, to honor the "King" inviting us to His feast, and He does note and honor this effort. So let me "dress up" for church today, because Christ The King, my King, does recognize my small efforts to prepare for His feast, not only spiritual efforts, but also physical ones.
Etiquette in the Orthodox Church
Etiquette in the Orthodox Church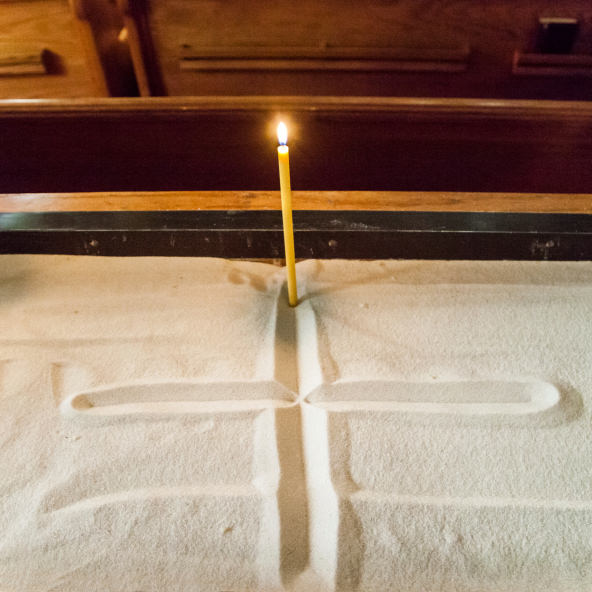 There is a certain standard of behavior that needs to be followed while inside an Orthodox Church. Even if you've been attending the church for some time, it's easy to forget some of these basic rules of etiquette. Here's an overview of some of the things you need to remember while attending an Orthodox Church service.
Get There on Time
It's important to get to church on time. Even though plenty of people are late for church, this is usually something that bothers the priest, even if he doesn't say anything. If you are late for the service, just be sure to follow the right protocol for entering the church so that your entrance doesn't cause a disruption.
Before You Enter the Church
When you arrive at church, the first thing you will do is walk through the doors and address anyone who greets you. Some churches may have official greeters standing at the door. After you walk in, it's customary to take a candle and place a donation in the tray next to them. Then, you'll light your candle, do your cross, and venerate any icons that are nearby.
Venerating the Icons
After lighting the candle, you'll then venerate any icons that are set up nearby. The candles in the Narthex commonly set up these icons. The proper way to kiss the icon is to make the sign of the cross three times and then kiss the hands. It is improper to kiss the icon on the face. If you're wearing lipstick, be sure to wipe it off before you venerate the icon so that you don't get it on the image.
Entering the Church
Once the Divine Liturgy has begun, there are rules for the correct way to enter the church. Don't enter the church if the epistle or gospel readings are taking place. It is also impolite to enter while the priest is giving a sermon or when the congregation is reciting the creed. Finally, you definitely shouldn't enter while the consecration prayers are being said. If you do arrive while any of these are taking place, you should wait until he's done before you take your seat.
What to Wear
In recent years, Orthodox Churches have gotten a little more casual than they used to be. The general rule is to wear clothes that are classy and not too provocative. Business casual or a suit and tie for the men are both acceptable. For women, wearing a dress or skirt that falls around the knee is preferred. Even though pantsuits are acceptable, they are still frowned on. When in doubt, dress in your best clothes. Also, be aware that men should remove their hats while in church.
Don't Cross Your Legs
Did you know that it is considered improper to cross your legs in an Orthodox Church? This is one of those rules that a lot of people don't seem to adhere to. In the eyes of the church, this represents a form of arrogance that stands in the way of our relationship to God. Since a lot of people aren't aware of this thinking, people tend to cross their legs without realizing that it is considered improper.
By following some of these basic rules of etiquette, you'll get more out of the experience at church. Most of these rules are in place to help create an optimal place of worship.
This post was written by GreekBoston.com
Help for the Journey
Fasting Guidelines
Fasting in the Orthodox Church
General Guidelines for Fasting: The guiding rule of the Fathers - never eat to the point of feeling full but rise from the table knowing that more could be taken and one is ready for prayer.
Fasting is never required when there are health issues that require the eating of certain foods.
Parents decide what age to begin a child fasting from foods. It is recommended when the child reaches 'the age of reason' around age 8. More importantly is teaching the fasting from behaviors not pleasing to God.
Foods allowed during Lent - this is considered Strict Fast A vegetarian diet including but not limited to bread, grains, vegetables, soup, tofu, fruits, nuts, beans, shellfish, octopus, squid, juice, coffee, tea or water.
Foods not allowed during Great Lent: All meat, poultry, fish, olive oil (vegetable oil is allowed), dairy products, cheese, milk, butter, eggs, and alcoholic beverages. Wine is permitted on certain days (see calendar). Fish & olive oil are allowed on March 25 (Feast of the Annunciation) and Palm Sunday, April 24, 2016.
Days on which the number of meals is limited: It is customary to limit the number of strict fast meals on Clean Monday (the first day of Lent, March 14, 2016), and on any day that you are preparing to receive Communion at a Presanctified liturgy.
Preparing for Presanctified Liturgies in the late afternoon: There are three ways to prepare depending upon your personal abilities. • If you are able - keep complete fast the entire day and have a meal after the Liturgy • Or have a fast worthy breakfast, no lunch followed by a meal after the Liturgy • Or have a fast worthy breakfast followed by a light lunch and a meal after the Liturgy.
Fasting Recommendation Level I is recommended for those who never or rarely keep the fast throughout the year on Wednesdays and Fridays. • Start by not eating any meat the first week of Lent and during Holy Week. • Do not eat meat every Wednesday and Friday during Lent. • Attempt to continue the Wednesday, Friday fast throughout the rest of the year and graduate next year to Level II.
Level II is recommended for those who keep the fast on Wednesdays and Fridays throughout the year but rarely follow a strict fast including dairy products and fish. • 40 days no meat, plus all of Holy Week • Dairy products & fish are allowed but not on Wednesdays and Fridays.
Level III is the ideal for those who fast throughout the year. • 40 days of Lent and Holy Week are kept as a strict fast.
You may create your own guidelines that may be a combination of the above recommendations, please consult your priest if you have questions.
Copyright 1997-2013 Rev. Andrew J. Barakos & Assumption Greek Orthodox Church, Ltd. All rights reserved. Studies or articles may not be reprinted or reproduced without written permission from Rev. Barakos | Church Office: (480) 991-3009 | Church Fax: (480) 991-3717
Preparing for Confession
Sometimes we are asked, "Where do I begin?" , when one has not been to confession for a long time, or perhaps, has never been to confession in their life. What follows is an expansive list of questions to ask yourself as you prepare for confession.
Self-examination and prayer prepare us as we stand before the Lord, with our Father Confessor as our witness, and say, "Please forgive me for I have sinned."
QUESTIONS TO ASK YOURSELF TO PREPARE FOR CONFESSION
Do you believe that you have nothing "serious" to Confess? Do you view confession as just a hoop you have to jump to get to communion?
Have you prayed to God upon rising and before eating and sleeping?
During prayer were you distracted by other thoughts?
Did you make the sign of the Cross carelessly? Did you make the Cross at all?
Have you attended Church services regularly? Did you arrive at the beginning of the service or near the end?
When in Church, have you been inattentive, distracted, laughed or talked unnecessarily, looked around and watched other people?
Have you brought a cell phone to Church? Has your phone rung in Church? Has this happened repeatedly?
Have you used the name of the Lord in swearing or in a joking way?
Have you sworn or murmured against God?
Have you been ashamed to make the sign of the Cross in front of others?
Have you attended parties, gone out for dinner, movies, entertainment, etc. when there was a Church services?
Have you failed to benefit your soul by keeping the fast and other rules of the Church?
Do you practice Yoga, Meditation or Buddhism? Do you dabble in other religious traditions and practices?
Do you sometimes go to non-Orthodox Churches or temples of other religions?
Do you believe that all religions have the same god?
Have you involved yourself in astrology, superstitions, fortune-tellers or the like?
Do you read your Horoscope?
Do you buy lottery tickets? Do you place your hope in luck, or chance and console yourself with imagination and dreams of wealth or escape.
Have you strayed from the teachings of the Church by unbelief, skepticism, or indifference to the Faith?
Have you tried to apply rationalism, philosophy or modern social trends to God and Church practices?
Have you felt you are able to selectively accept the teachings of the Church, considering certain teachings antiquated or uninformed by modern learning, science or psychology?
Have you judged the Church for its positions on contemporary issues and debates?
Do you often talk about "Church Politics"?
Do you frequently talk about prophecies and the end of the world, while neglecting to struggle with the passions and pray?
Have you failed to ask for God's help in every effort?
Have you concealed or glossed over sins at confession out of shame?
Do you show your parents proper respect? Have you been rude to them, talked back or otherwise offended them?
Do you show your spouse's parents proper respect? Have you been rude to them, talked back or otherwise offended them?
Have you kept a grudge, or talked badly about them behind their backs?
If your parents or in-laws are reposed, have you prayed for them? Remembered the anniversary of their repose?
Have you been disrespectful to members of the clergy, your elders, teachers or superiors?
Do you placed yourself on the same level as a priest or bishop, and failed to recognize their spiritual fatherhood and the place they hold above you as a shepherd and pastor?
Have you been angry or irritated?
Have you abused anyone? Used foul language? Struck someone? Harassed someone? Tried to punish someone? Spread lies? Tried to ruin someone's reputation?
Have you become violent? Has this occurred repeatedly?
Offended someone in an argument?
Have you raised your voice in anger? Shouted or intimidated others? Forced someone to remain silent?
Have you tried to manipulate others, or refuse to take no for an answer?
Have you joked, mocked, made fun of, or spoken badly of the handicapped, mentally ill, poor, homeless, other races or minorities, unfortunates, the elderly, addicts, imprisoned, or anyone different than you?
Are you truly at peace with everyone?
Have you actually asked forgiveness or said that you are sorry to those you have offended or wronged?
Have you failed to give aid to someone in need, especially when they have asked you? Have you pretended not to see them or found reasons why you should not help them?
Have you donated to the needs of the Church? Do you expect that someone else will do this?
Do you donate to the Church regularly, or only when you feel like it?
Do you feel unable to contribute to the Church, or that it is never the right time financially to support the Church?
Do you feel like you don't have any responsibility to support your Church?
Do you support your priest and his family financially?
Do you believe that a priest should not be compensated for anything, and just serve in poverty out of love for Christ?
Do you prefer to give nice things to the Church that bring you recognition or fill you with pride, and neglect to support the regular uninteresting needs of the Church like paying the rent, mortgage, heat, or electric bills?
Have you harmed someone?
Have you spoken to someone abusively, or uttered threats?
Have you caused anyone to live in fear or anxiety by your behaviour?
Have you been cruel to a child?
Have you been cruel to an animal?
Have you taken something without asking?
Have you failed to return something you have borrowed?
Have you been stubborn, insistent on pressing your point of view?
Have you created unhealthy dependency in others?
Have you undermined the authority or capacity of others?
Have you made yourself an authority, where you should not have?
Do you ask for advice or prayers from your priest? Are you willing to listen?
Have you plotted or taken revenge on someone who's offended you?
Have you told falsehoods, distorted the truth, cheated, judged others or gossiped?
Have you joked about the faults of others, or exposed the faults of another to make yourself look better?
Have you been vain? Sought glory or praise for yourself?
Does your inner peace disappear when you feel that others are unfair to you or judge you?
Do you blame others for your unhappiness?
Are you proud? Do you brag of your abilities, position or possessions?
Do you consider yourself worthy or sinless in the sight of God?
Do you take your salvation for granted and consider yourself saved with out work to transform yourself and resist sin?
Have you been overly concerned with your appearance?
Have you been overly concerned with appearing to others as a good or successful person, husband/wife, parent, Christian?
Are you properly dressed in God's house the Church? Do you dress modestly?
Have you harassed people who were not dressed "properly" in Church, and scared them away by your zealotry?
The 7th commandment includes all sins of a sexual nature, either by thought, word, or deed, any of these must be confessed.
Have you been unfaithful to your spouse?
Have you flirted online, or been unfaithful to your spouse online?
Have you played with possibilities, and looked at dating or casual encounter websites to imagine something else?
Have you looked at pornography or other exciting images? Read sexual or explicit stories? Watched indecent movies? Given yourself over to fantasies and imagination? Masturbated?
Have you immersed yourself in seductive songs? art? or movies?
Have you been envious of another's possessions, appearance or standing? Or considered them unworthy of what they have?
Have you fulfilled all obligations faithfully? Have you been lazy?
Have you been impatient? Fallen into despair or apathy? Had thoughts of suicide?
Are you attached to smoking, alcohol, other drugs? Food or drink? Clothes? Books? Music? Shopping? Internet? Sex?
Do you give up your heart to money or other earthly possessions?
Are you a honest worker? Are you worthy of your wages?
Do you have icons in your home? Do you have the priest bless your house at Theophany?
Do you have a rule or schedule for your prayers?
Do you read Church books, Lives of the Saints, and the Holy Gospels?
Have you ever read the New Testament?
Do you pray to your saint? Have you read their life?
Are you addicted to the TV or Internet? Is your family addicted to the TV or Internet?